Throughout this (series of) article(s) different roles, tasks, and phases are mentioned. For this reason I want to introduce myself, meaning providing context or an perspective. I consider myself being a Power BI service admin. Whenever I use personal pronouns like we, I, us, I'm referring to this group of people – the Power BI service admins.
Being an admin sometimes sounds a little bit boring, at least in comparison to descriptions like
Data visualization hero
DAX ninja
M guru
Data storytelling conjurer
Even if it's not a competition, I tend to describe the role using more fancy words than just administering resources.
I consider myself being a change agent, helping enterprises to succeed in becoming a data-enabled organization.
The tasks
Throughout the series I will describe many specific tasks, but for now I will stay with the more general ones
Safeguarding the content inside the Power BI service
Make all the capabilities of the service available to the users
How to become a Power BI Service Admin
At the current moment (November 2020) there is no dedicated learning path to become a Power BI service admin, except some presentations, even the AIAD (Admin in a day) workshops just provide a glimpse into some of the administrative tasks.
Talking to other Power BI service admins most of the time it has happened by accident. Power BI has been introduced to the enterprise by implementing a single project. Reports that are created need to be shared with colleagues and made accessible. After quite some time there will be a 2nd project, and then a 3rd, … It's more than likely that Power BI will spread (at this moment, the spread is un-managed more like a wildfire). As a person of the 1st hour, it will be likely that you will find yourself in a role where you are helping the other teams to succeed by sharing your experience and then suddenly you are the Power BI service admin.
Becoming a Power BI service admin – the boring technical promotion by an M365 admin
The technical part of becoming a Power BI service admin is boring in contrast to the evolutionary process that should end with the establishment of a center of excellence.
Technically the Power BI service admin is a role next to many inside the M365 (aka O365) admin universe. If you are not familiar with this universe (as I have been some time ago) this article will get you started: About admin roles in the Microsoft 365 admin center - Microsoft 365 admin | Microsoft Docs
The next picture shows this dependency: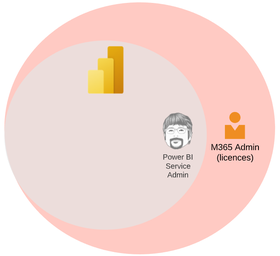 The next picture shows how the M365 admin or anyone with the appropriate permissions can assign users to the Power BI Service Admin role inside the Azure Active directory.

After the assignment to the role

You have become one of the change agents that are helping your enterprise becoming an data-enabled organization.